This is a small handmade and handpainted sun face with a multicolor pattern, very typical of Talavera ceramic. This ceramic sun face is just an example of the exquisite beauty the Mexican craftsmen put on each item they create. It is handcrafted and handpainted, which means that no two sun faces are the same! There might be small differences in size, weight and even the paintings compared to the picture you are looking at.
Enjoy some pictures of projects where talamex multicolor small talavera ceramic sun face has been used.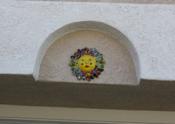 Ceramic Sun Face in front of House
All Rights Reserved. Fine Crafts & Imports, 2002-2019.