This bathroom sink has a dark blue border, followed by a terracota line and a white band which surrounds the whole sink. There is a band right after the border on mostly blue cobalt background with some red, yellow and green decorations inside. After that band a lighter one makes a nice contrast with yellow circles surrounded by blue cobalt leaves; and finally, the central part is fully handpainted on yellow foliage with a dark blue background. A very sophisticated pattern which is hard to explain in words, the picture is worth hundred words. Most of the background is dark. It has an overflow system.
Enjoy some pictures of projects where marigold ceramic talavera sink has been used.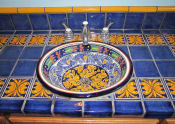 Mexican sink and Talavera Tile in a Vanity
All Rights Reserved. Fine Crafts & Imports, 2002-2013.