This bathroom sink has a dark green border, followed by a dark-orange-almost-terracota band which surrounds the whole sink. Inside the band is a chain of Liz flowers concatenated among them by light blue and dark green leaves. Most of the background, the central part in particular, it is handpainted in a light cream color. It has an overflow system.
Enjoy some pictures of projects where liz flower ceramic talavera sink has been used.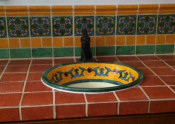 Yellow Liz Mexican Sink In Tile Countertop
All Rights Reserved. Fine Crafts & Imports, 2002-2013.